by Dr. Roger Miller, Professor Emeritus, University of Utah
BAROQUE EXULTATIONS
Wohl mir, dass ich Jesum habe…………………Johann Sebastian Bach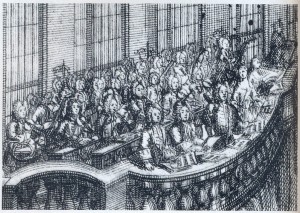 One of J. S. Bach's most beloved works, this timeless chorale comes from Cantata No. 147, Herz und Mund und Tat und Leben (heart and mouth [i.e. words] and deeds and life).  The several lines of the hymn are interspersed with perhaps the most famous ritornello (thematic interlude) of all time, which tonight's audience will surely recognize immediately.
Domine Fili Unigenite ……………Antonio Vivaldi
Antonio Vivaldi's brief motet for voices and strings, Domine fili unigenite, sets a portion of the Gloria of the Roman Catholic mass in a brisk 18th-century baroque style featuring crisp dotted rhythms:  "Lord Jesus Christ, only begotten son [of the Father]."  Vivaldi, one of nine children born to a musician at St Mark's Basilica (San Marco), Venice, was originally intended to be a priest, but turned ultimately to a career in music, serving as maestro di violino at the Pio Ospedale della Pieta, a Venetian orphanage specializing in musical training for girls.  The high level of proficiency attained by his young charges under his tutelage became legendary.
MYSTICS & SAINTS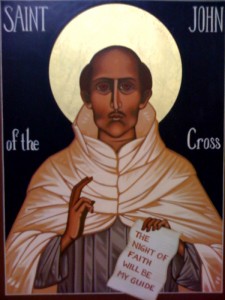 Totus Tuus …………………………….Gorecki
Polish composer Henryk Gorecki (1933-2010) was born in the village of Czernica in Poland's coal mining district.  In 1955 he began composition studies at the State High School of Music in Katowice and achieved his first important recognition as a composer with an orchestral work, Scontri, in 1960.  Much of his early career was spent as a rebel and outcast in the communist-dominated Poland of the time.  A follower of the western avant-garde of the 1950s and '60s, he wrote in the serialist medium, which was anathema to the party leaders.  Like that of many others of his generation, his interest in serialism began to wane in the 1970s, as he began to realize that the mood of the times required something else, that people were hungering for a music more responsive to the world they knew, and so he composed the spectacularly successful Third Symphony, Symphony of Sorrowful Songs, which almost immediately launched him into international fame.  Despite this success, Gorecki refused to compromise his own ideals and remained steadfast in the belief that art must never yield to the dictates of popular taste.  The Totus Tuus for unaccompanied mixed voices was composed in 1987 for Pope John Paul II's pilgrimage to Warsaw, during that incredible period of resistance that eventually brought about the downfall of communism in Poland, in large part due to the Pope's support.  The text (translated "Yours Alone") was written by a contemporary Polish author, Maria Boguslawska, and is addressed to Poland's patron saint, the Virgin Mary. It is written in a style some have termed "holy minimalism" because of its severe homophonic simplicity (four-part chords moving essentially together without rhythmic counterpoint among the separate voices).  The text is dominated by a simple repetition of the Virgin's name, Maria, chanted as a plea for her divine help and favor; in fact the piece opens with a rhythmic palindrome: "MA -ri-a, Ma-ri-AH,
Dark Night of the Soul…………………………Ola Gjeilo
Norwegian composer Ola Gjeilo (b. 1978) is a rising star in the choral world.  A pianist as well as composer, he has had much success with his recordings for solo piano, "Stone Rose" and Piano Improvisations," and with a best-selling choral album, "Northern Lights."  Now working in the United States, he has also been very much influenced by musical theater, film music and crossover (combining classical and popular idioms).  A poetic essay about the struggles of mankind in seeking the light of God, Dark Night of the Soul has a rather rough, primitive (or perhaps primeval) quality at the beginning. Then, over a string pedal point that becomes progressively more complex, as new overtones are added, the piano improvises a simple succession of chords.  Men, in Gregorian-chant-like unison, accompanied by an ostinato of rapidly arpeggiated piano chords, introduce the next section.  The film-music influence can be clearly heard, as grandiose chords rise to a climax, only to fall back to a lyrical solo piano improvisation of liquid colors.  This is choral/instrumental music with a very mystical center, true to the text-inspired images of St. John of the Cross (1542-1591).  Perhaps the best venue for hearing it would not be a concert hall, but  — as the title suggests — under starry skies, where chant and ritual come face to face with the great questions of the cosmos.
PAINTING MUSICAL PICTURES
Requiescat ………………………………….….Eric William Barnum
Eric William Barnum (b. 1979) has made a place for himself in choral music by building upon traditional techniques, delicate choral colors, and mildly experimental, sometimes unexpected harmonies.  His music is closely tied to the text and almost always evokes a mystical spirit.  Composed in 2007 for 4-part mixed chorus joined by a semi-chorus, Requiescat takes as its text a poem by renowned Irish poet/playwright Oscar Wilde written in Avignon, France.  Setting Wilde's reflection upon the death of a young woman, apparently much beloved by him, the piece explores the extremes of emotion, musically portrayed by "sensual melodies floating through dissonant harmonies."

Waterbird ……………………………….Richard Hundley
"Waterbird," a lovely art song composed originally for solo voice on a text by the American novelist James Purdy (1914-2009), is heard tonight in an ethereally beautiful arrangement for mixed chorus and string quartet by UCA director Barlow Bradford.  Its composer, Cincinnati native Richard Hundley (b. 1931), rose to prominence as one of America's foremost song composers almost by accident.  In 1960 he became a member of the Metropolitan Opera Chorus in New York City, where he shared his music with various star performers who championed his work, adding his songs to their personal recital programs.  As a result, his songs are now part of the "vocal repertory in every major music school in the United States as well as leading music schools in Europe" and have been sung internationally by some of the world's most famous artists, including such recent luminaries as Frederica von Stade, Marilyn Horne, Renee Fleming, and Anno Moffo, among many others.  Impressionistic colors glide across the liquid surface as serene music floats through the mystical text in a contemplation of this transient world with its unknown end.
Cancion de Nuestro Tiempo…………………….Einojuhani Rautavaara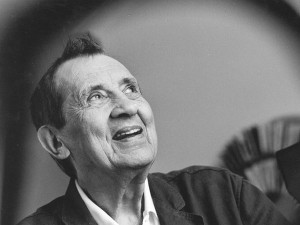 Einojuhani Rautavaara (b. 1928), Finland's most notable composer after Jean Sibelius, in fact owes much of his success to his eminent predecessor.  In 1955 he was awarded a grant from the Koussevitzky Foundation in honor of the 90th birthday of Sibelius intended to enable a young Finnish composer the opportunity to study in the United States.  As a result, Rautavaara studied with several of the most important American composers of the time, including Vincent Persichetti at Juilliard and Roger Sessions and Aaron Copland at Tanglewood.  Even though the dominant musical language of the 1950s and '60s was serialism (which he also employed), Rautavaara's music never had the abstract, mathematical qualities so often associated with the serial aesthetic.  Instead, he cultivated more generally appealing, sometimes descriptive sounds, and his later works often have a mystical quality.
The Cancion de Nuestro Tiempo (1993) is a choral suite in three movements on a text by the famed Spanish poet Federico Garcia Lorca, who was murdered in the 1936 fascist takeover of Spain.  As with many of Lorca's texts, this one is a very dark, lamenting commentary on the human condition — a symbol-filled critique of the forces of greed and avarice that Lorca felt had distorted and to a great extent destroyed the innocence of the world. Rautavaara's setting is direct and compelling. Rautavaara, himself, has given the following explanation:
When the Tokyo Philharmonic Chorus approached me with a commission for a     major choral work, and announced their requirement that it should "relate to the     world of today", I responded by choosing some poems by Federico Garcia Lorca.      Their emotional fabric, along with the way they deal with the themes of mortality     and angst, seems to be closer to the present age than to the time in which they     were written, the 1920's and 30's.
In the opening movement, Fragments of Agony, Lorca paints in his surrealistic fashion the harsh, inhuman world brought into being by industrial society and war.
GREEN MUSIC
Source of Life (H20)……………………….Laura Kaminsky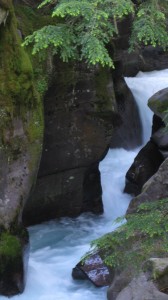 Laura Kaminsky (b. 1956) is one of the most interesting American composers active today.  Not only a composer but a producer, as well as a respected educator, Kaminsky is the recipient of many awards and is indefatigable in her promotion of contemporary music. In 1984 she was the founder of the still-active new music ensemble Music Accord and she has served as the artistic director of Symphony Space, a New York City multi-disciplinary performing arts center.  In the early 1990s Kaminsky spent a year in Ghana and has since been a sponsor of various African musical projects. As a composer, her work has concentrated on chamber, piano, and vocal music, where her selection of texts has reflected her eclectic tastes and wide-ranging interests and experiences.  Tonight's performance is part of a larger work, Crossroads, which has an ecological message of great importance, summarized by Wendell Berry: "Whether we and our politicians know it or not, Nature is party to all our deals and decisions, and she has more votes, a longer memory, and a sterner sense of justice than we do…"
The music of Crossroads combines movements from great classical works paired with a new work by a living composer, creating a space for focused contemplation. While each classical work offers an extraordinary range of emotional expression, The Fry Street Quartet wanted to include an original work, written specifically for the project by a composer who had previously considered this theme. The quartet was fortunate to find an ideal collaborator in composer Laura Kaminsky.  Ms. Kaminsky's new work is the centerpiece of the full performance, offering more direct responses to each component, with movements titled: The Source of Life (H2O), Bios, Forage, and Societas.