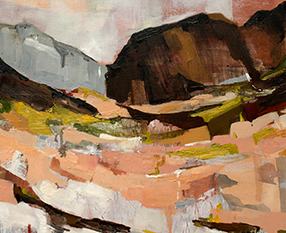 "Journeys of the Heart"
Monday, Sep 26
8:00 PM
Cathedral of the Madeleine
FREE TO THE PUBLIC
($5 suggested donation)
.
.
"Alto Rhapsody" – Johannes Brahms
"Rest Now My Sister" – J.A.C. Redford
(reprise of the 2011 premiere)
Also music of Vaughan Williams, Howells, and more.
This year's Collage Concert considers the heart's search for love. We are pleased to introduce mezzo-soprano Kirsten Chavez as our featured soloist. Recently appointed to the University of Utah Music Faculty, she enjoys a global reputation. Ririe-Woodbury Dance Company also joins us with remarkable dancers to add a new dimension to our unique Collage format. And we welcome back Cathedral of the Madeleine organist, Gabriele Terrone.
Read the PROGRAM NOTES.
.
.
Check out the remainder of our 2016-2017 concert season at a glance.
A special thanks to Utah artist Jena Schmidt who created the artwork for our 2016- 2017 season. To learn more about this talented artist, click HERE.