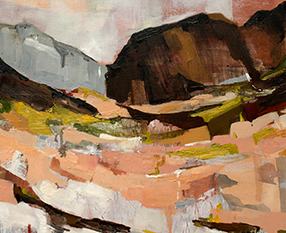 "Journeys of the Heart"
Monday, Sep 26
8:00 PM
Cathedral of the Madeleine
FREE TO THE PUBLIC
($5 suggested donation)
"Alto Rhapsody" – Johannes Brahms
"Rest Now My Sister" – J.A.C. Redford
(reprise of the 2011 premiere)
Also music of Vaughan Williams, Howells, and more.
This year's Collage Concert considers the heart's search for love. We are pleased to introduce mezzo-soprano Kirsten Chavez as our featured soloist. Recently appointed to the University of Utah Music Faculty, she enjoys a global reputation. Ririe-Woodbury Dance Company also joins us with remarkable dancers to add a new dimension to our unique Collage format. And we welcome back Cathedral of the Madeleine organist, Gabriele Terrone.
"Rejoice and Be Merry"
Monday, Dec 5
7:30 PM
Libby Gardner Concert Hall
TICKETS
$15/$10 (advance)
$17/$12 (day of)
"On Christmas Night" – Bob Chilcott
Carols old and new – Bradford
A musical celebration of the Christmas story, this piece by former Kings Singer Bob Chilcott features a variety of styles from reflective and jubilant to swinging and folksy. We know you'll enjoy this enchanting addition to the Christmas choral repertory. Also, "tried and true" carols by Artistic Director Barlow Bradford as well as "brand new" works by his son Christopher Bradford whose music UCA enjoyed an over¬whelmingly warm response last spring. Welcome the holiday season by joining us for our very popular Christmas Concert!
"The Fruit of Silence"
Monday, Feb 27
7:30 PM
Libby Gardner Concert Hall
TICKETS
$15/$10 (advance)
$17/$12 (day of)
"Silent Songs" – Pēteris Vasks
"The Fruit of Silence" – Pēteris Vasks
"Requiem in C minor" – Luigi Cherubini
Pēteris Vasks believes "Music is an abstraction, yet sound is able to express the spirit." Vasks plays with the idea of sound and silence in the works we'll present in this concert. "Silent Songs" reflect on the profound attachment he has to his homeland. In The Fruit of Silence the composer implements a prayer of Mother Teresa to create a musical meditation. A relatively lesser-known composer, Luigi Cherubini was revered by Beethoven, Schubert and Brahms. Cherubini's Requiem was one of the most highly re-garded sacred works of its time. The work is a prayer of the living for the dead who are now silent, quiet, and in tranquil repose.
"Alchemy"
Monday, May 1
7:30 PM
Libby Gardner Concert Hall
TICKETS
$15/$10 (advance)
$17/$12 (day of)
"Alchemy" – Donald Skirvin
"Rejoice in the Lamb" – Benjamin Britten
"Neue Liebeslieder Walzes" Op. 25 – Brahms
Alchemy is described as a magical power or process of transmuting a common substance, usually of little value, into a substance of great value. Donald Skirvin bases his work on poems by Sara Teasdale and points out that "just as the ancient practice of alchemy endeavored to turn dross into gold, this setting of Teasdale's poems traces a series of poetic and musical transformations along life's journey". "Rejoice in the Lamb" by Benjamin Britten also employs a little alchemy by creating a litany from common place things such as animals, nature, and even letters of the alphabet.
A special thanks to Utah artist Jena Schmidt who created the artwork for our 2016- 2017 season. To learn more about this talented artist, click HERE.